Detailed Product Description

Material:Tinplate SS301
Liner: Food grade PVC
Outer Dia:32.00 ± 0.15MM
Inner Dia:26.00 ± 0.03MM
Packing: export packing, 5000pcs/carton
Weight: 18KG/carton ± 0.5KG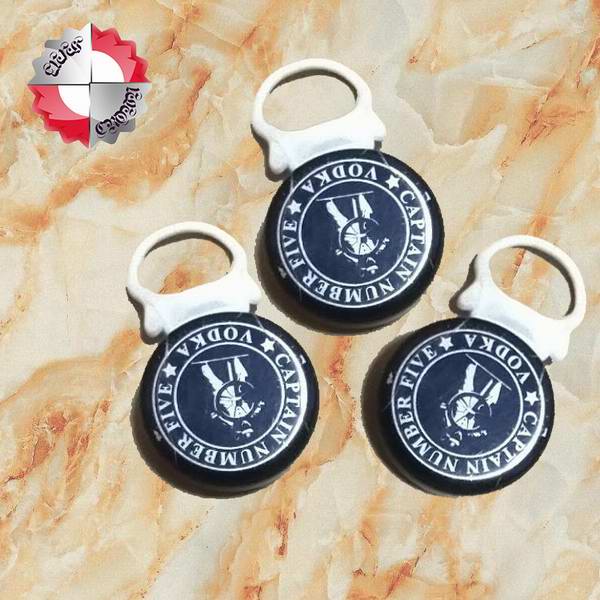 Our development of the latest patent product "crown easy pull bottle caps, the bottle opener is used to open a bottle of thoroughly solved history, low production cost, good appearance, the degree of automation and high technology, with strong market competitiveness. Approved by EU.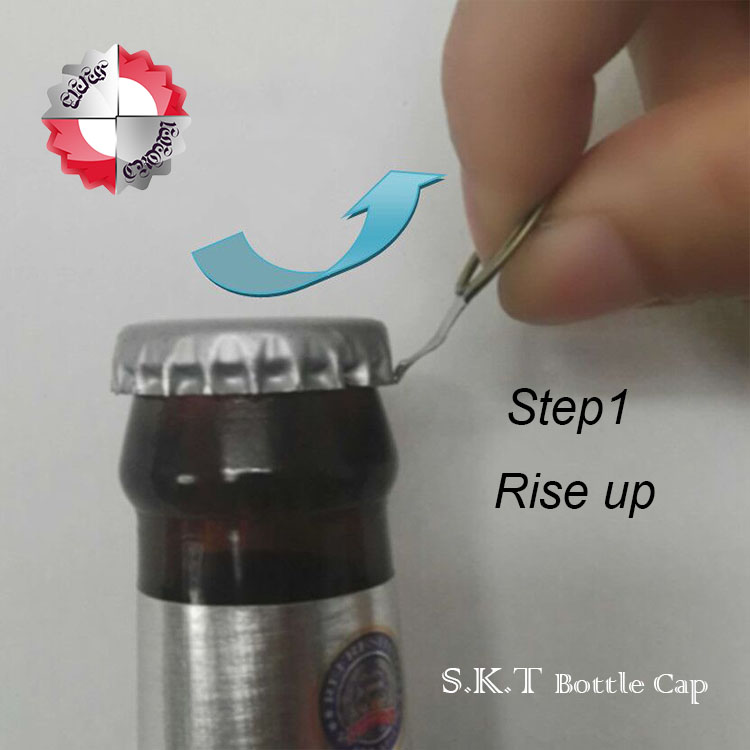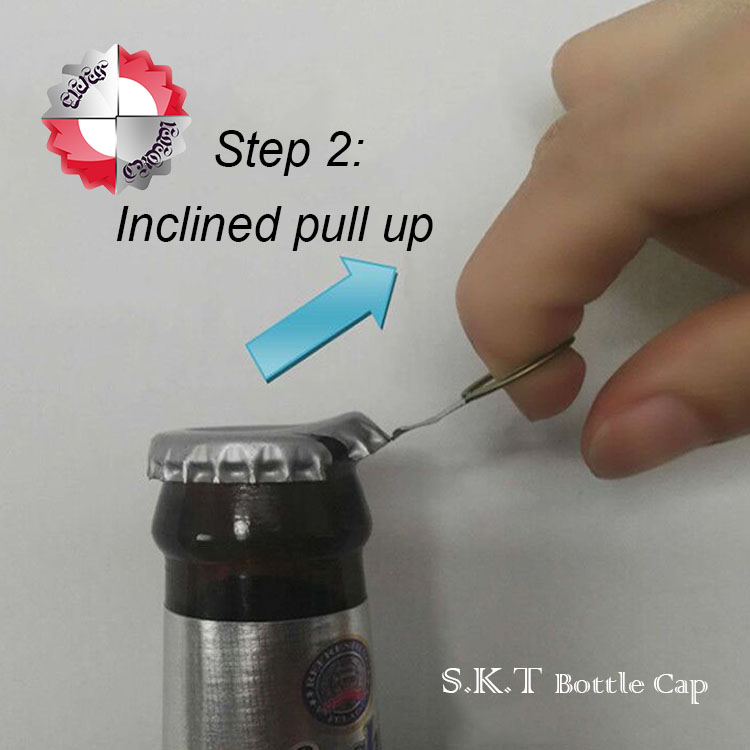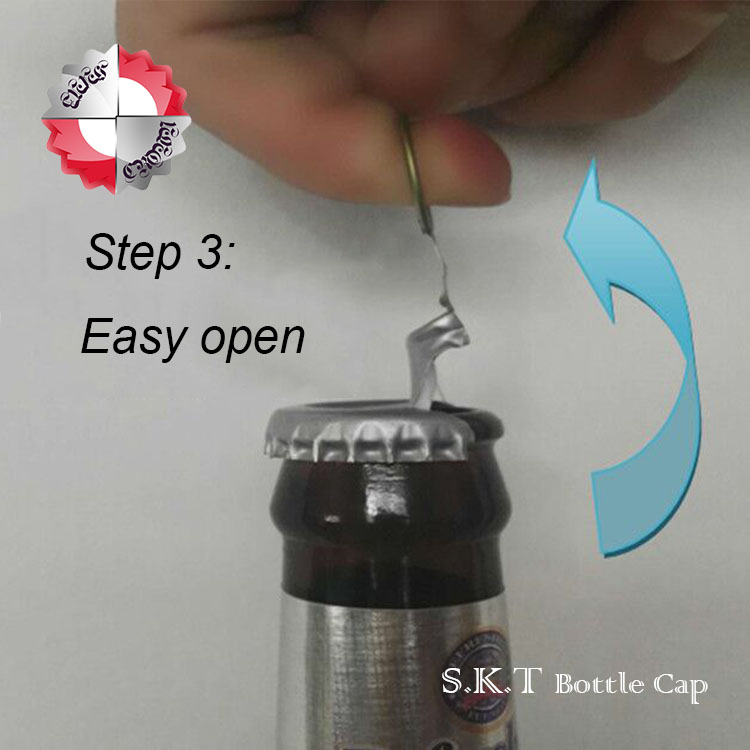 Product introduction:
The cap shaped beer bottle cap fully conforms to the national standard, and its characteristics are as follows:
(1) easy to pull off. The product is attached to the top surface, and it is easy to open the bottle cap with the hand, so that the consumer not only opens the bottle easily, but also gets a kind of beautiful enjoyment because of its novelty feeling.
(2) easy to use. The appearance and size of the product are the same as the original use of the iron beer cover. Therefore, there is no change in the use of the beer canned equipment.
(3) safety and explosion-proof. The crown is easy to open and the explosion-proof bottle cap is made of automatic precision equipment. The use of it is to add a safety explosion-proof device to the glass bottle, so as to completely remove the danger of glass bottle's explosion due to excessive pressure.
(4) patent protection. The product has been granted a number of national patents, producers and users are protected by the State Intellectual Property Rights, and can effectively prevent counterfeit and shoddy.
(5) multi product use. It is not only used in beverage packaging, but also in the packaging of beer, liquor, drinks and condiments.
(6) no additional equipment need to add, it only use existing equipment
(7) product anti-fake.
(8) supply production euqipment.
Welcome to be our agent.
1. What is the minimum quantity of an order for easy open lid (minimum order quantity)?
The standard color (gold) : 30,000 PCS
Special color/design: 500,000 PCS
2. I need to replace the existing filling and capping equipment?
Don't need to change, need to make a few adjustments to block equipment.
3. Production capacity is now open bottle caps?
We can provide at least 1 billion hat every year. A day at most 5 million hat.
4. How to get the samples?
The sample for free. Customers need to provide a freight collect account number or Courier fee in advance.
We will send you the samples in 3 days.
5. We use what material?
SS301 or Chrome plated tin, originated in Japan.
By grace, France made of PE material. The European Union for approval.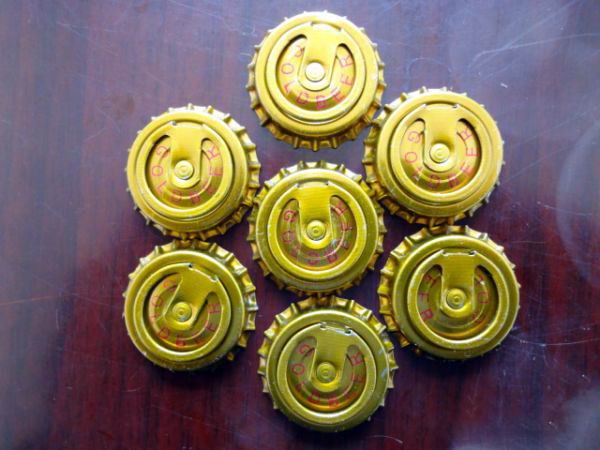 SKT is a privately owned flexible company. The company is customer oriented. Service is quick and reliable due to the benefit of our in-house prepress and offset printing facilities. abundant experience of designing & manufacturing ring pull closures and ring pull cap sealing machines gives Hunz crown a unique depth of knowledge.
This is reflected in the level of service and support given to customers. Research & development of bottle caps and ring pull sealing machines is being continuously undertaken. SKT is approved under ISO 9001 quality, health & safety at work.
TOP-RING PULL CAPS, SEALING MACHINES AND CROWN CAP BOTTLE CLOSURES The main products of SKT are top-ring pull bottle caps, ring pull cap sealing machines, luxury aluminium closures,crown cork bottle caps,oil caps, bottle caps, beer caps, juice bottle caps etc.